JESUS, OUR PRINCE OF PEACE
Isaiah 9:6
Have you heard the saying, "No peace? Know Jesus, Know Peace!"?
How very sad it is during this Christmas Season that in many families there is no peace. Conflict within families, unrealistic expectations, loneliness, sad memories, depression, discouragement, exhaustion and crankiness characterize what should be a season of supreme joy and divine peace. Christmas for some is anything but "Merry." We have totally lost our focus.
Let us quiet our hearts and remember that, "Jesus" the greatest gift given to mankind, is the reason for the season. He left his heavenly home to come to earth with a goal of bringing us peace with God by reconciling us to the Father. His death on the cross paid our sin debt in full and restored our relationship with God. Even though God allows us to endure hardships and conflict while on this earth (John 16:33), He does offer us divine peace--an inner security that fills our hears and minds no matter what is going on in our circumstances.
How can we experience this kind of peace?
I believe by trusting in the following truths:
God is in control of everything. I am sure that some times when these seem out of control in our lives, we do wonder if He truly is in control. But even when we cannot see His Hand, we can trust His Heart. (A favorite of my pastor's quotes.) God is sovereign! He will do what He will do.
God is with us (Immanuel). He loves us and will see us through all circumstances no matter how difficult they may seem. God will make a way where there seems to be no way.
To have peace, we must yield our lives to Him. When we hold on to our ways and plans, we experience turmoil. We need to let go and let God.
We have a limited perspective and understanding of our circumstances and God's purposes for allowing them. His goals for us are greater than our immediate comfort.
The Lord promises to work all things for our good. He is continually acting to conform us to Christ's image.
We must live in tune with God, walking in the Spirit and daily confessing and repenting of our sin. I tell my Sunday School students each week at the end of class, "Get your exercise this week, walk with God."
Scripture is the foundation for peace. It increases our trust in the Lord's goodness, assures us that He keeps His promises, and reminds us of His sovereignty over every situation.
Is your life characterized by a quiet assurance that guards your heart and mind all day long (Phil. 4: 6-7)
or
have stressful circumstances left you feeling depressed or agitated?
Try setting aside time each day to turn your eyes upon Jesus.
Then let Him (your choice) heal you heart and calm your spirit.
Turn Your Eyes Upon Jesus
- Michael W. Smith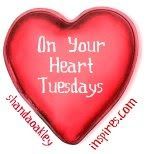 Have a Peaceful Day,