I am thankful for:
81. A new year, 2012! Another year ahead to:
love and serve our amazing and awesome Lord,
trust the Lord for His provision for all things,
sit at the feet of Jesus, via His Word, and learn of Him (He's the source of all wisdom),
share life with my loving and dear husband, my best friend and companion,
share life with the dearest family on earth,
share life with friends close and far away,
enjoy God's amazing creation,
be a "keeper of my home" and to be able to enjoy my love for homemaking, crafting, gardening, sewing, and entertaining.
82. This past Christmas season and the reminder that Christ came with a purpose...to die on Calvary's cross
for the payment for our sins, and that we may have new life in Him, abundant and free! My prayer for
this new year is that the Lord would use me to share the joy of knowing Christ as Savior with a needy
world. I am so thankful for the incredible difference He has made in my life. If we have Jesus, we have
everything we need!
83. The new series of sermons at VBC..."Fit for Life!" It has already been so helpful and encouraging!
May the Lord do a good work in me through this series, and I look forward to being transformed into
84. Great free resources-the Internet with a wealth of instant information and the library systems, local and
online that help us to be "life-long learners," and Facebook and Skype that are able to keep us
connected with family and friends, near and far, on a daily basis.
85. Books and great authors! Fiction, non-fiction, cookbooks, and magazines. TV, radio, computers,
telephones, and amazing technology!
We have sooo much! We are a blessed people!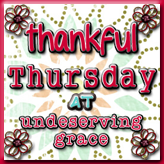 Have a Thankful Day,