I have been thinking lots lately about grumpy old people, perhaps because they seem to be everywhere. They're fussing at the waitress in the restaurant, scolding the clerk at the grocery store for an out-of-stock item (like it's her fault), lacing out a friend because he neglected something he wasn't aware of, and just being fussy, fussy, fussy!
Recently while at the grocery store an elderly man literally screamed at me and told me to get away from him when I reached to get a package of cheese. I tried to apologize for being
near
his space and he just kept screaming at me. Nearly scared me to death, and believe me, I did quickly move away. As I continued to shop, I could not help but wonder what might be going on in that person's life to make him act so cantankerous. I ushered up a quick prayer asking the Lord to surround him with His love and comfort.
I certainly do know that growing older is not easy, and I am well aware of the aches and pains of aging, the mourning over things we used to be able to do and can't any more, forgetfulness and declining health issues. But this IS the physical winding down process as described in Ecclesiastes, chapter 12..with the fading mental powers, the knees buckling, the sound of the grinding of the teeth is low, eyesight fading, easily being awakened from sleep, deafness, white hair, heart and circulation problems, and fear of old age! Yes, it comes to everyone! As King Solomon ends his discourse on the 'Vanity of Life", he concludes that God is the Secret to Life! Verse 13 and 14 state, "The conclusion, when all has been heard, is fear (reverence) God and keep His commandments, because this applies to every person. For God will bring every act to judgment, everything which is hidden, whether it is good or evil."
My heart's desire
is not
to become a fussy, grumpy old woman, but to have a desire to grow up into a new season of fruifulness. How thankful I am for this season in life which allows me to have more time to study God's Word, more time to meditate and pray, more time to serve Him, more time to read, and more time to share with others. May God give me the grace as I age to still bear fruit and to be fresh and flourishing.
"The righteous shall flourish like a palm tree,
      He shall grow like a cedar in Lebanon.
   Those who are planted in the house of the LORD
      Shall flourish in the courts of our God.
   They shall still bear fruit in old age;
      They shall be fresh and flourishing,
   To declare that the LORD is upright;
      He is my rock, and there is no unrighteousness in Him."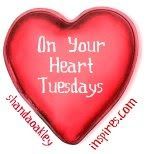 Tuesday Bloghop
Have a Happy Day!