Oh, how I love thatched cottages!
So, beautiful with their cottage gardens!
Rustic and romantic!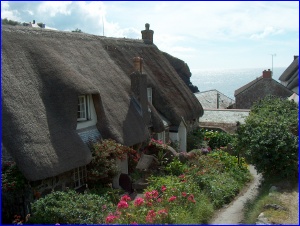 I would enjoy stopping here for a "cream tea", with tea, cones, jam and Cornish clotted cream.
Cornwall by the Sea
This Cornish Cottage tea bag holder and thimble were a gift from my Cornish friend, purchased at her sister's
gift shop in Cornwall, England. She also gifted me with a Cornish Flag. What a delight!
AND, Look at what I just won over at Notes from a Cottage Industry's
Spreading the love..March 2012 Giveaway!
Just love it all...espcially the thatched cottage salt & peppers!
I'm so tickled! Just can't wait to have them on my table! Thanks so much Tracey!
Please stop by Tracey's blog for
Spreading the love...in April.
Have a blessed day,